FREQUENTLY ASKED QUESTIONS
Making Hope and 3D Printing Change
---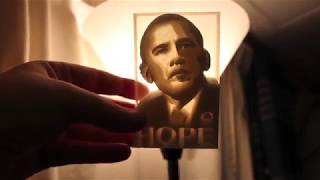 Accessibility and Digital Material Making Making Hope and 3D Printing Change draws on critical making, visual rhetoric, and disability studies to explore more accessible methods for studying digital images. 3D printing creates a different way of experiencing images through touch. Using Shepard Fairey's Obama Hope and 3D technologies, this project remakes visual images into tactile lithophanes that reformat color and wave lengths to create hands-on experiences of visual data. Ultimately, I argue that sensory approaches can prioritize difference to reframe how scholars discuss disability and create new methods for doing visual study. Making Hope is forthcomming in the Doing Digital Visual Studies collection edited by Laurie Gries and Aaron Beveridge.
---
Arduino Interface
---
Sensory Tech and Embodied Media For the past five years, I have taught Arduino workshops that help participants build basic electronic devices with sensory technology. Arduinos use an open source, command line interface and work across digital and physical platforms to read inputs (a light on a photocell or a finger on a joystick) and produce an output (sound from a sensor or starting a motor). Participants learn to combine digital code with analog sensors to create an electronic effect. My workshops have used light, sound, and motion to create pseudo-theremins, animatronics, photocell light receptors, and programmable music boxes. For more information visit the Arduino Page at the University of Florida.
---
3D Tactile Books
---
Tactile Technologies and Accessible Learning Partnering with University of Colorado, Boulder, I create tactile books for children with visual disabilities. The books use 3D technologies to design raised scenes and braile plates that readers can touch, read, and experience. Each page or set of items is printed with durable, PLA printing plastic and features shapes that help readers understand the story. Tactile book projects were part of a 2018 Girls Technology Camp and a 2019 Advanced Exposition course taught at the University of Florida. The tactile books we created include The Very Hungry Caterpiller, The Giving Tree, Goodnight Moon, The Lorax, The Ugly Duckling, If You Give a Mouse a Cookie, and Rainbow Fish .
---
Crafting with Technology
---
Teaching Technology as Advocacy I also teach workshops and pop-up events focused on crafting with technology - projects that unite wired tech with sewing, paper crafts, or woven materials. Each project stitches together diverse materials to demonstrate simple scientific concepts (like electricity, magnetic fields, or color blocking) and engage different types of technical literacy. With each workshop I discuss how technologies can promote diverse forms of communication and public advocacy for issues such as Women in STEM, technofeminism, accessibility, multilingual writing and making, and sustainability.
---
---